Oncology Central Editor's picks: What does the future hold for prevention and screening in oncology?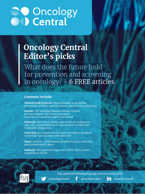 Sign up to Oncology Central below and receive your complimentary Editor's picks.
Over the last 5 years, the field of prevention and screening has advanced to the forefront of oncology. During the current pandemic, it is more important than ever to ensure access to prevention and screening technologies remains available, and that research into this accelerating field continues.
Take a look at the Editor's picks from Oncology Central and Future Oncology, discussing topics in prevention and screening such as: secondary prevention of breast cancer brain metastases, the use of liquid biopsies, the impact of COVID-19 on cancer mortality and much more.