In this eBook we explore key advancements that have pushed the treatment of lung cancer forward through delving into what recent drug approvals mean for oncologists and their patients. We also provide a visual snapshot of non-small-cell lung cancer (NSCLC) and the GioTag study in two separate infographics and look into what lessons can be learnt from real-world evidence in a review article from Future Oncology.
Highlights include:
INTERVIEW: what does the US FDA approval of trilaciclib mean for oncologists and their patients?
REVIEW: benefits and limitations of real-world evidence: lessons from EGFR mutation-positive NSCLC

VIDEO

: sequential afatinib and osimertinib in NSCLC patients

INFOGRAPHIC

: recent therapies in NSCLC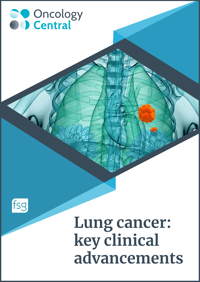 Complete the short form below to become a member of Oncology Central

and access this FREE eBook today!